THIS HOME HAS BEEN RENTED OUT********* 01/02/23- 04/02/23
This  fully-furnished home in the Silveridge community  must be seen to be appreciated.
— Enclosed Garage (will not fit a Suburban or large truck, normal cars only) with Automatic Door Opener ( 7'8″ wide x 8'9″ tall)
What Makes This Home Special?
Love to entertain?  This floor plan includes a wet bar area secluded off the main living space that provides an ideal area to serve guests from.  There's also a tastefully done office workspace with ample room for getting a few calls made or spending some time on the computer.
Finally, fabulous use of space throughout such as a stack-able washer & dryer closet and a large closet placed strategically off the kitchen makes this one of the most innovative manufactured home floor plans you've EVER seen!
Rental is $3,500 per month + tax or $985.00 per week + tax ( Minimum stay is 1 week)
$500.00 deposit required ,$200.00 cleaning deposit (non- refundable) $10.00 for a gate card.
Weekly Rentals include ALL Utilities—-Monthly Rentals pay electric only.
All Rentals include Unlimited Access to ALL of the incredible Silveridge Clubhouse facilities and Amenities. * Sorry this home is in the non- pet section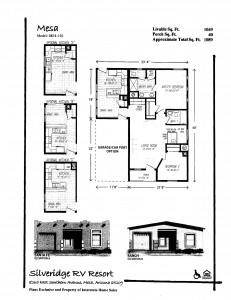 For Rent Info 480-373-7000