SPECIAL STATUS REPORT ON HDTV/INTERNET
"What we really want is stuff that works"
"Here's what I want everyone to remember: "We went into this project to reduce what people had to pay for their television and internet. This was our goal – to be the first 5-star community of our size to have these wonderful and meaningful improvements for years to come – and we're going to get there as fast as we can."
                                                          Al LaCanne
As the writer Douglas Adams once pointed out, "We are stuck with technology when what we really want is just stuff that works." So today let's have a talk with the man in charge of turning the park's latest technology into stuff that works.
That's Tim Furlong, the Area Supervisor for GDS Communications. When park GM Rhonda Ciacco introduced me to Tim, she added, "He's also known to some of the ladies of the park as 'the sweet young thing,' a description that made him smile and say, "Our goal is to build rapport."

But when it came time to discuss the problems he inherited, he turned serious: "When our team arrived here, the residents were frustrated, and I
didn't blame them. But, what I understand is that you have to respect people if you expect them to trust you."
Speaking of trust, I think it's always good to know a bit about the people you're counting on. Here's a quick recap of Tim's background:
Having grown up in the Tri-Cities area in Southeast Washington, Tim describes his former home as "Not what you picture when you think of the Northwest. Where I grew up it was farms and wine country." Oh, and a giant nuclear facility. That's where his father works as a nuclear engineer. And his mom is a nurse.
But Tim didn't linger in Washington. As soon as he graduated from high school, he joined the Navy, spending six years as a Fire Control specialist. That's not what it sounds like – he wasn't fighting fires, he was making sure ship's missile systems stayed ready to fire. Either way, it makes him the right choice to make sure the parks' TV and Internet becomes "stuff that just works."
So, how's it coming? What can residents expect over the summer?
THE RESORT
"Of the two parks," Tim explained, "the system at The Resort is the more solid, the more stable. It works better; but, it looks bad. We have a lot of cable that needs to be tested, some of it replaced, and all of it weather-proofed and buried. That will be done later this summer, but since it's up and stable, we're focusing first on the work at Silveridge."
As for the interim period, I asked Tim what residents of The Resort should do if they feel their service isn't up and stable. "Please go to the Front Desk. They'll have a form to fill out and send to us, and we'll get it on our work list."
Eventually, though, the focus of the work will shift to The Resort, and when it does, it will be similar to what's happening at Silveridge, as described below.
SILVERIDGE
And that brings us to Silveridge. "We had a successful split of the park at Silveridge," Tim says. He added, "I know there are some residents who disagree about it being a success. What happened is that there were spots where the signal was much stronger or weaker. We had an engineerng firm do modeling for the park so we knew where the pedestals should be and where the nodes, or feeds, should be. The result was that we got the signal evenly distributed, and when we did, it revealed that some of those who'd had the stronger signals had underlying issues."
What remains to be done at Silveridge?
"A lot of digging. A lot of cables need to go underground and many of them need to go under streets."
I asked if that meant digging up the streets and Tim explained that it didn't; rather, they dig a hole four to six feet deep on either side of the pavement, then they send through "the missle," a boring device that creates a 2-3 inch tunnel. They then install flexible conduit that will carry the cable line and will allow for fairly simple repairs in the future.
And, speaking of digging, the crews are also digging up all the pedestals (the green or white boxes), all 260 of them. They check the fittings, resplice the connections and then weatherproof them.
That sounds like a lot of work. A whole lot.
And that brings us to the big questions:
What should residents at Silveridge expect to see going on? And, how long will the work take?
"We'll be starting with the south side of the park, then we'll do the north. Given the heat, we like to start work early. A typical workday is 5AM to 3PM. Our goal is for the all the construction work to be finished in two months. That's a rough estimate. I hope it will be sooner. We'll work seven days a week if we need to."
"Yes, when we are replacing the pedestal or re-splicing cables, the signal will be out. But that will only be for half a day. We shouldn't need to have it off overnight."
Will residents get some warning of when it will be off?
"Yes. We will give people a heads-up a week before. They'll get a notice in the mailbox."
What about people who have problems or need help?
"We will continue to do trouble calls and installs. If someone has issues, or they've made a change – for instance, they added an Arizona room and want TV out there — or if someone is moving in, they just need to go to the Front Desk and fill out a form and we'll get in on our work schedule."
So, how much confidence should residents feel about the work being completed and the HDTV and Internet becoming "just stuff that works"?
First, Tim seems to be the right one for the job. He says,
"We know this isn't just about people watching their favorite TV shows. We know that there are people trying to pay bills online, or communicate with family, or with doctors, and we have people whose medical devices are connected to the internet. When we first got here and I saw reports involved medical devices, I cancelled everything I had scheduled for that day and took all those appointments myself. I wasn't about to let that go."
And he adds, "Once we get it stable, it will be stable for years. It will be at least a decade before any of the material starts to degrade." (If only I could say the same about myself.)
GM Rhonda Ciacco added this:
 "The TV and Internet problems have been a headache for everyone. And I want to thank all of our residents for being so understanding. Sure, we've had a few who've taken out their frustrations on those who work here, but that's rare. We have some of the best people in the world at our parks and they understand that when you try to make improvements that not everything goes as planned. But we're getting there and the result is going to great."
Tim and the other professionals at GDS Communications are working hard to complete the work over the summer. They try to finish working each day by early to mid-afternoon to avoid the worst of the afternoon heat. Let's all try to help by not distracting them from their scheduled work.
We have forms at the Front Desk where you can direct your comments or inquiries, and where your concerns can be most efficiently put into the workflow.

And please don't attempt to work on the park equipment — it could be dangerous and could create liabilities for those who do damage or create additional work.
And thank you again for your patience and understanding.
ANNUAL RENT COMPARISON CHART
Every year the management team undertakes a rent comparison to see how how Silveridge and The Resort compare to nearby parks. This is done in Spring, so these are rents that were in effect at that time. (You'll be getting a letter about upcoming changes to rents in the next week or two.)
Remember as you view these, that Silveridge and The Resort are among the most spacious in the area – some nearby parks have more than double the number of units per acre. In Al LaCanne's words, "We continue to strive to be the best value for the money."
Aileen Gunning, who leads the rent review, added this perspective:
As a member of the research team, I have reviewed our neighbors for 10 years. I always stop in at our parks last. I do this because without fail every year, I let out a contented sigh, because our parks are so much better, bigger, more updated and lovely than any of the others on the list.
Aileen Gunning – Home Office Manager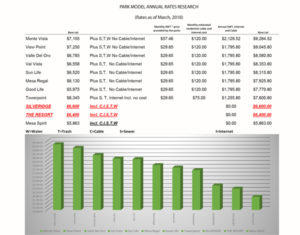 We know that many Silveridge residents are frequent visitors to our sister park at The Resort, so we thought you'd like to see the following articles from The Resorter…
PEOPLE OF THE PARK:
Dick & Carol Poppe and the American Idol Connection
A new American Idol was crowned in May, Maddie Poppe. If that surname is familiar, that's because she's the granddaughter of Resort residents Dick and Carol Poppe.
Dick and Carol with Maddie at her high school graduation
We spoke with Dick shortly after Maddie's dramatic win on May 21st. He started by saying, "I want to thank all our friends at The Resort for supporting Maddie. Even our Canadian friends, who couldn't vote, took the time to send their support. All the emails and texts meant so much to Carol and me. And who knows – theirs may have been the votes that put Maddie over the top."
He added, "The Resort is a special place. That's why we go there."
We asked Dick about his son Trent, Maddie's father, and about Maddie's upbringing. She grew up in Clarksville, Iowa, not far from Dick and Carol's home in Waterloo. "She had a good foundation of faith and family," Dick tells us. Our kids were always taught that life is not a free ride, you've got to work hard."
As for musical talent in the genes, Dick plays the guitar and can play by ear, but credits his son's mother for the real gift. "Trent's mother, who passed when he was 13, could hear a song and sit down and play it on the piano or the accordion. She had the keen ear for music." Like his dad, Trent plays the guitar, and he also performs in local bands.
If you missed it, you can click below to see one of Maddie's performances on Finals nights, her charming duet with Kermit.