"THE JOY GROUP"
A Visit with the Sunshine Friends
By Dale Dauten
As I look back on it now, there was a moment during my visit with the Sunshine Friends of Silveridge that epitomized for me the spirit of the group. If you're not familiar with them, it's 40 or so residents who commit to bringing a little sunshine into the lives of anyone in the park who's had a tough go of it – whether housebound or hospitalized, or a death in the family or just disheartened. The members all make sure to hear of anyone needing a lift and to report that need to those assigned to make visits during that particular month. Members also keep signs posted in their windows to let neighbors know they are standing by to help. (Here Marion Cook holds a sample sign similar to the one in her window, as shown in a photo at the end.)
But back to that moment: It came as I sat in on a luncheon meeting, one with an impressive array of food choices. (As the group's President, Mary Erickson, put it, "Everyone brings two gallons of food and eats half a gallon.") Each of the women – the sole male member being absent that day – took a turn introducing herself and reporting on anyone who might qualify for some sunshine. One of the members, Betty Novotny, told of having recently hurried to get to a neighbor's home, striving to deliver a quilt to the husband before he left to visit his wife at the hospital. But not only was the husband still home, he had big news: "I brought her home last night!" And that occasioned the moment that epitomized the group's spirit. That little sentence prompted a glorious noise, part sigh, part cheer, part gasp, that made me understand just what these folks are for Silveridge: a cheering section for every soul in the park. It's a bit like the old "spirit squad" we had back in school, and that metaphor seemed especially apt when Marion Cook explained the Sunshine Friends by saying, "We're the joy group – we're just older youth." Older youth. Perfect.
Speaking of Marion Cook, she's one of the original members of the group, dating back to 1987 when two nurses decided to organize the compassionate spirit of the residents. Marion said, "I can't tell you how much joy and loving spirit has been given in all those years." She added, "Just about every time we take a gift to someone who's been in the hospital, they are surprised and say, 'How did you know?'" Well, the Sunshine Friends know how to know. They are all active in the park so they are endless permutations of connections. As Joann Kloss put it, "We all have all feelers out." Sue Nielsen added, "We all have connections. I'm a quilter, so I hear from that group. And we get announcements in church."
Sunshine Friends President – Mary Erickson
"The group also helps with memorial services for those who request them," Sue continued. "We just had one with 250 people." Further, Mary pointed out that they have medical items available for loan: "The equipment can be signed out and used by any resident of the park – walkers, canes, crutches and wheelchairs."
| | | | | | |
| --- | --- | --- | --- | --- | --- |
| | | | | | |
What goes on when the Sunshine Friends stop by for a visit? "Most people want to chat," Joann explained. "They want to talk about what they've been through." She recalled her most recent visit: "Just this week I stopped by to take yellow mums to a neighbor who'd broken her hip. She said, 'Oh, what a boost to see you and that beautiful plant! You've made my day!"
Nancy Swain added that the lifting up runs both directions: "We have such a variety of people in the park, people of totally different backgrounds, that it's a delight to visit. It's good for the soul to help somebody."
If you're an "older youth" who wanted to join "the joy club," or if know someone who could use some sunshine, you can contact Mary Erickson at 701-739-8298, or you can look for one of the smiling faces in a neighbor's window that says Sunshine Friends.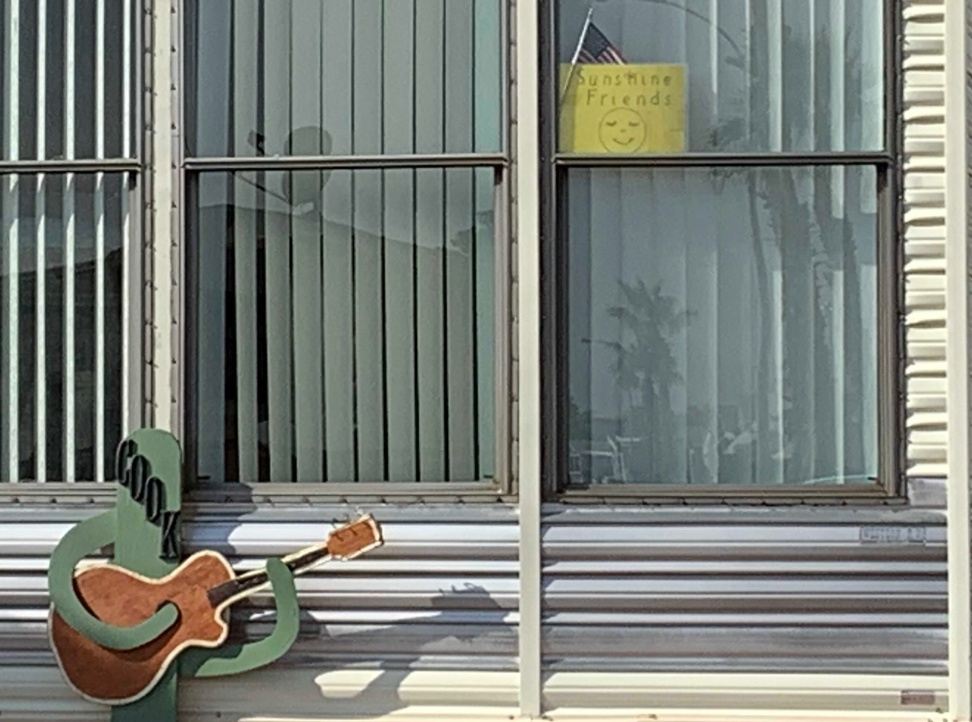 STATUS UPDATE ON HDTV/INTERNET & THE CLUBHOUSE
HDTV/INTERNET
When we asked Tim Furlong of GDS how things were progressing with the work of finishing up the internet and HDTV, he smiled and said, "Nonstop, nonstop," before adding, "We did the main part of the park first and now we are getting the corners, so to speak, and that means we only have small sections of the park go offline when we're working."
He also said, "It's ugly, because we have so many green boxes that still need to be buried, but we will make it pretty with time – our priority now is getting everyone online." And just about everyone is online. In fact, Tim worried aloud that there are people waiting to be hooked up who've fallen through the bureaucratic cracks and asked that we pass along this message: "If you put yourself on the list and you've been waiting for us a long time – say three weeks or more – something has gone wrong. Please check with the front office and we'll get you taken care of ASAP."
RECONSTRUCTION OF THE CLUBHOUSE
While the offices still are not quite ready to reopen, and library and card rooms are in temporary homes, the ballroom is back, better than ever, the billiards room is busy, and the full slate of activities is underway. Activities Director Sue Arneson reports high levels of participation in park events, and the clubs and organizations are fully engaged. She adds,
We're having a "Welcome Back Appreciation Luncheon on Friday, Feb 1st sponsored by the Activity Dept. We have about 450 residents coming for the free lunch and program. It is our way of saying thank you for your patience and that we have found "Our Happy in 2019"!
There's No Place Like Home
Letter From Sue
"Mid pleasures and palaces though we may roam, be it ever so humble, there's no place like home." How these lyrics by John Payne ring true when we are thinking about our home here at Silveridge.
In our journey this year I hope you are finding your "Happy Place" I challenged you with in 2019. I have found mine in my home at Silveridge! We couldn't wait to get back to our home here. Grateful as we were, we wanted to be together for Food, Fellowship and Fun. Even through the construction noise, cold rooms, and finding space for everyone, we are still in our Happy Place. Why? Because there is no place like home!
I remember the first time I left home for High School and experiencing homesickness. I could not eat or sleep and all I did was cry because I wanted to go home and be with Mom and my family. When you leave a loving and safe environment and are in an unknown place, you appreciate what you have even more. We had a dog named Rusty. Our son David was never that fond of Rusty, but when he joined the Military and went to Boot Camp he wrote us a letter and told us how much he even missed Rusty!
Years later I was fortunate to have a career with a decorating company whose mission was to "Decorate Homes with Love." In our Code Of Ethics we recited that "Our Homes were a haven, a place of refuge, a place of peace and beauty." Isn't that what we hope to achieve in all of our homes?
Now that most of us are in our retirement homes here at Silveridge and other parts of the country, let's be thinking of ways to build our community to make it the loving and peaceful home we want . Recently a couple of residents said they wanted to start a welcoming committee This committee would personally meet and greet any new members with a Silveridge mug filled with candy and goodies, plus the calendar and activity information. Somebody else wants to start an Illinois Social; that's the idea!! Let's build relationships and ways to get to know one another. The more we get together the happier we'll be! We all come from different backgrounds and I challenge you to come up with ideas to build our home here.
All of you should have received a survey in your mailboxes requesting ways to improve our park. Please take the time to share your ideas. While we await completion of our Silver Center let's all embrace the people around us and work to create a beautiful and homey environment.
If I had a pair of Ruby Red shoes I would be clicking them right now and exclaiming "There's No Place Like Home."
| | |
| --- | --- |
| Marge Faktor in front of New Curtains | The decorators always put their magical touch on creating beauty in their decora-tions for our events. Have you noticed that trees have been added? The Quilters are sewing new curtains for the Ballroom and Social Hall windows, a new clock is in the Ballroom and a cabinet and pillows were purchased with Bingo funds for our new chairs. We love our new chairs. Thank you Rhonda and George! We are celebrating with our free Welcome Back/ Ap-preciation Luncheon and program on Friday, February 1st at 12:00. All 450 tickets have been given out. Thank you to Jerry and Tracy and all the kitchen volunteers for making and serving the food. |