STATUS UPDATE ON HDTV/INTERNET
By Dale Dauten             
"Any sufficiently advanced technology is indistinguishable from magic."
Arthur C. Clarke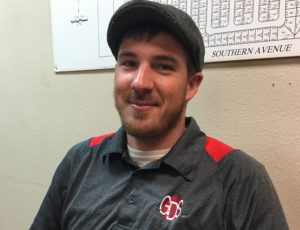 We've all grown accustomed to the magic of the internet. But, that magic depends on a whole lot of old-fashioned hard work, like digging trenches and burying cables. And that brings us to this month's status update from Tim Furlong, the Area Supervisor for GDS Communications and the man heading the HDTV/Internet project at both Silveridge and The Resort.
Here's his overall assessment:
"It's business as usual. We're still kicking it, still getting the work done. And the good news is that it can't get much hotter than it already is."
The heat has meant Tim and his crew start early and then return to work into the night. In last month's update Tim asked us to alert year-round residents that they'd be seeing workers at night with "a light and a ladder." We asked if there had been problems. Months back, when he first started at the parks, Tim encountered a skeptical resident who didn't want to believe that he really was authorized to be there working at nine o'clock on a Friday night. However, no issues since. He added, "If it's us working, there will be plenty of light. We don't go creeping around."As for progress…
At Silveridge, most of the digging is finished and the new pedestals installed, although there are still places where they are using the "missile" to install cable beneath street.
At The Resort, there is still more replacing of pedestals to be done, but that's work is waiting on the next shipment of new equipment.
For both parks, Tim said this:
"Our goal is to be finished by the end of August. It's going to be close, but we're going to make it. Till then, we will have intermittent interruptions to service. We'll put out fliers and we'll post them at the park offices, letting everyone know when these are coming."
As we chatted, Tim added that the residents have been a pleasure to work around. "Not only do they bring us water and Popsicles and other treats, but I like being in the parks. They've got me looking forward to retirement and I'm not even thirty."
LETTER FROM SUSAN

& THE TICKET ORDER FORM
Dear Friends,
Here is my Ticket Order List for the 2018-19 Season. You will love every event! (And many come with delicious dinners!) Many of you requested the seating charts for each event. These are included as PDFs you can read online or print.
We ask that everyone (singly or by couple) fill out a ticket order list. You may request a desired seating area and we will try our best to honor your request.
You will be happy to know that my assistant Sharon will be back. Sharon and I and our wonderful office volunteers will be at the Activity office to assist you starting October 1st.You can call us at 480-373-7700 or email me at sractdr@iiiaz.com with your ticket order.
Ticket order requests will be taken in order they were received. Please do not send orders unless you are sending in your order by mail to arrive by Oct 1st. No tickets will be pulled until then. Please send a check made to Silveridge Activities after we verify your total. We can send your tickets in the mail or you may pick up your tickets when you arrive. We appreciate all your pre orders. You can also buy your tickets when you return but don't wait too long as some of the events sell out. Thank you in advance for buying tickets and all your support and enthusiasm for our activities!
I am looking forward to sharing my 9th year with you. You are my extended family and it brings me pleasure to make your experience at Silveridge truly "golden!" Enjoy making memories with your family this summer. Stay healthy and God speed your return to Silveridge. Make sure you stop by the Activity Office when you arrive so we can greet you with a hug.
Your Activity Director,
Sue
SPECIAL EDITION…
In case you missed it, in mid-July we sent out an online Special Edition of The Silveridge Sun with photos of the big summer storm and an update on repairs. You can see that edition by clicking below.