"We do not remember days; we remember moments." Cesare Pavese
If you're like me, looking back on a long career doesn't involve reliving entire workdays, just afew dramatic moments, some good, some not. I'd like to
pass along one of my best, then I'll tell you why I'm telling you and how we need your help…
In 1988 I sold the research company I owned because I kept insisting to myself and everyone else What I really want to do is be a writer. Having sold the company, I had the time and money. And, suddenly, I also had the fear (gulp) — it was time to put up or shut up. A
couple years before I'd written a book that didn't sell and the thought of taking on another was daunting.

(William Styron, who wrote Sophie's Choice, said that writing a novel felt
like walking across Russia – on your knees.")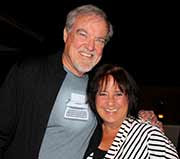 Dale & Sandy Dauten, at the LaCanne home in 2014
Then a friend who wrote an occasional column for a suburban newspaper introduced me to the Business Editor. Soon I had a weekly column called "The
Corporate Curmudgeon." No pay, but a weekly deadline and an Executive Editor who had a mantra, "Deadlines are your friends." Indeed. I learned the
marvelous skill of writing on demand.

(The novelist Peter DeVries once said,
I write when I'm inspired and
I make sure I'm inspired every morning at nine o'clock.")

The Executive Editor liked my work and gave copies of my best columns to one of the country's major syndication companies, King Features. One of their
editors called and said, "We want you. We're sending a contract." No feeling out, no negotiation, just a big we-want-you. That's a good
moment.
That was 25 years ago. Back then, newspaper columnists were important because newspapers were important. Most everyone read them and the columnists
became familiars, remote friends.
That brings us to the memory I wanted to tell you about.

The folks at King Features invited me and my wife to fly to Manhattan to meet the staff and attend the annual Christmas party. My
mother, hearing that I'd be sitting in meetings with the King executives, insisted on giving me a manicure. My first and last. And we
went to the party and had a picture taken with someone dressed as Popeye (they syndicated the comic strips), met Joyce Brothers, Calvin
Trillin and other writers and cartoonists, and the King team.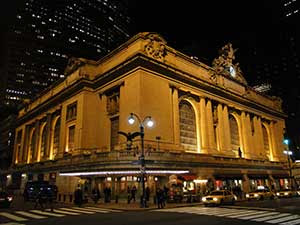 Grand Central Station
This kid from Tempe, Arizona felt out of place, over my head, star-struck. But, hey, there I was. (I didn't know it yet, but the column
would go on to run for nearly two decades in The Chicago Tribune, Minneapolis Star-Tribune, St. Louis Post-Dispatch, Arizona Republic and dozens of others.)
Walking back to the hotel, my wife and I passed Grand Central Station. One of the shops with windows on the street was a bookstore with
a big window display of books by a writer coming in for signing later that week. The writer was Les Brown and the book was "Live Your
Dreams."
My wife stopped, nudged me and said,
"You don't need that book – you're doing it."
Nice, eh? What I could never have dreamed at that moment was newspapers would die off and syndicated columns become almost extinct, but for that moment
of that day I understood the joy of a career journey.
NOW… let me explain why I wanted to tell you that story…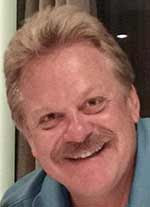 Al LaCanne
Al LaCanne is an old friend, and his company is one of the owners of Silveridge and The Resort. We were talking aboutmemories and he said,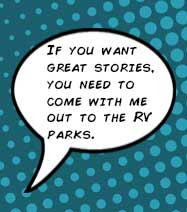 "If you want great stories, you need to come with me out to the RV parks."
I was hooked. What writer doesn't yearn for a fresh source of stories? My typing fingers were itching.
Eventually that conversation with Al eventually led to an agreement that we'd replace the old newsletters at Silveridge and The Resort with new
in-house publications, and I'd be the Editor. You'll be seeing them evolve over the coming months.
For now, we picked a name for each, suggesting a newspaper format…
The Silveridge
SUN
And the
The Resort
LIFE
I suggested that we add a motto for each park. From talking to Al I knew that his motto for the staff is, "We're here to help you have fun." Al tells
me that his personal goal is a big one: "To have the happiest residents of any RV park in the world."
Using those themes, I conjured up a few possibilities—a few of them are below.
When I asked Al to pick one for each park, he said,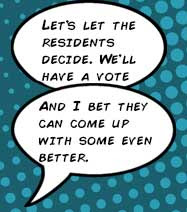 "Let's let the residents decide. We'll have a vote."
Then he added,
"And I bet they can come up with some even better."
So there you are… the gauntlet is thrown down. We want you to come up with suggestions better than these, then we'll take the best and send them to
you for a vote. Sounds like more fun than the Presidential debates, doesn't it?
The first five candidates:
"The Happiest Retirement on Earth"
"No Place Better"
"Another Great Day In The Park"
"The Fun is Never Done"
"You Can't Pick Your Family, But You Can Pick Your Park"
You know your park better than I do, so I bet you can do better.
Let us know.
Drop your suggestions at the office or email them to me: dale@dauten.com.