The survey results are in, and any Presidential candidate would long for the type of favorability ratings that residents gave the Silveridge RV Park.
Highlights of the favorable responses…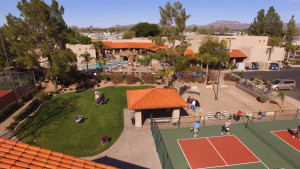 When asked if they would recommend Silveridge to friends or family, 86% gave answers that suggested a clear "yes" (54% giving the park a "9" or
"10" — with 10 being highest — and another 28% choosing a "7" or "8").
When asked if they felt safe at the park, nine out of ten residents said they did, both during the daylight and nighttime hours.
Over three-quarters of the respondents found the staff to "warm and friendly."
And, in a result that warmed the heart of this writer and that of Sue Arneson,
The rating of the newsletters (in print and online) got an average score of 8 out of 10. (We also learned that the two things you would like to see more of are "Updates on the park and its amenities" and "Profiles of clubs and activities." We've heard you. Please see the profile of the tennis club in this issue.)
What about negatives?
There were many people with specific suggestions for improvements in the park or its policies. Of the more than 300 responses that have come is so far, over 200 people took the time to write out answers/suggestions, often commenting on multiple issues. These are being analyzed by Al LaCanne, park owner, and by the team that is responsible for Silveridge.
WE WILL HAVE A SPECIAL FEATURE ON THE SURVEY RESULTS IN THE NEXT ISSUE OF THE SILVERIDGE SUN. That's when Al will address a number of issues raised by residents.
Asked his reactions to the initial results, Al said,
"I'm pleased to see that so many people took the time to answer our questions and to offer opinions. Thank you to everyone who sent in compliments about the park and the staff. It's rewarding for me to feel that our multi-million dollar investment in upgrading Silveridge is being appreciated by so many residents."
He adds,
"As for the things that we didn't get right, every manager will be studying the residents' responses and we will use that input to help prioritize what we focus on in the off-season. Within a month we'll be able to talk in detail about those plans."
Look for those plans, along with a detailed analysis of how Silveridge stacks up to other Mesa parks, in the next edition of the Silveridge Sun.