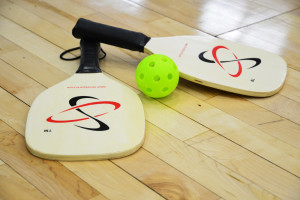 Come join the game that is sweeping the nation!  Pickleball is a great sport for everyone from 8 to 90 years young!  It's easy to learn and great exercise.
We have four beautiful new courts to play on.  We have over 100 members.
Equipment is supplied for beginners .  Free lessons are available Thursday at 9:30 am.  Some rackets are available for purchase.
The courts are reserved for members to play from 8:00 am to noon every day of the week.  Tuesday and Thursday have two courts reserved for advanced players with a tournament rating of 3.5 or greater from 1:00 to 3:00 pm.  That will leave two courts for others on those days at those times.  Every day other than Tuesday and Thursday afternoon, the courts are available for everyone in the park to play whether they are pickleball club members or not.  Equipment is supplied to members only .
Play once for free and then join the club.  There is a $5.00 membership for the season.  Anyone under 18 must be accompanied by a resident or registered guest.  Court shoes are required.
---
HISTORY OF THE SILVERIDGE PICKLEBALL CLUB
2009-2010: There were 2 courts and pickleball was starting to catch on as an easy game to learn and play. Phil Peskett was instrumental in promoting pickleball at Silveridge. There were less than 2 dozen players.
2010-2011: There were approximately 30 members. Silveridge pickleball club was formed and an executive appointed. More courts were needed. Several members joined Phil to build two additional temporary courts. This involved having the boxes made to hold the posts, obtaining and hanging the nets and getting down on their hands and knees on the cement to paint the lines. These courts worked very well for the number of members that we had. Joe Botero, the manager at that time, was approached to make these additional courts permanent.
2011-2012: Silveridge management came through with two more permanent courts. As the level of expertise improved, these courts were found to be unsafe. The players were running into the basketball hoop stands, tripping over balls coming in from other courts, slipping off the edge of the sidewalk or falling on the slippery surface of the courts themselves. As these injuries were significant, management was approached and recommendations were made to make the courts safer. That year the renters association helped with the purchase of a court roller, wooden paddles and balls for public use and a new equipment locker.
2012-2013: A committee was formed to improve the courts. Alan LePoudre drew up a letter which was signed by Jim Knox, The Caracas, and Ed Wladyko with recommendations as to how this could be achieved. This committee passed on the club's concerns of safety issues to management and to the owner of the park.
2013-2014: The basket ball hoops were removed. Joe Botero retired. Shawn Codina was appointed as our new park manager. He was invited to come to see what pickleball was all about and how much the membership had increased in numbers. He was impressed. After several more meetings with him, a plan for improved courts was submitted. The executive received a promise that the pickleball courts would be improved over the summer of 2014.
2014-2015: During the summer of 2014, the four old courts were demolished and replaced with four new courts. They turned out to be beautiful and safe! The executive was still making plans to incorporate the pagoda and make it the central gathering place for our members while waiting for games. At that time, the executive asked that gates be installed to close off the perimeter of the courts. Safety on the courts was greatly improved.
2015/2016: New gates were installed on the perimeter of the courts over the summer. The club grew to over 130 active members. A committee was struck to look into increasing the number of courts and to have a covered area built for equipment and notice boards near the pagoda. The executive is also requesting night lights for night play and shaded bleachers to be installed at the south end of the courts for viewing the games.
In summary, the Silveridge Pickleball club grew from a handful of players in 2009 to an incredible 130 members as of January 2016. The club continues to grow in numbers every day. Every Thursday, new players are coming out to learn how to play this very popular sport. There are ongoing lessons for intermediate and advanced intermediate play. The club now has an exchange with another park for inter park play. Socials and tournaments are being conducted at least twice a month. The club welcomes new players to come out and give it a try.
Submitted by Gail Caraca, Communications Officer
[Best_Wordpress_Gallery id="5″ gal_title="2016 – January – Pickleball"]