"I met a friend of yours at a conference.""Who was he?"
"Not a he, a she."
"Okay – who was she?"
"I can't remember her name. Some oddball name."
"Oh, yes, yes. I know just who you mean."
That snippet of conversation is how Air Force Colonel Wayne Freeman reconnected with Air Force Chief Master Sargent Brona Davis, who later became Brona Davis Freeman. (If you're curious about how to pronounce that "oddball" name Brona, it rhymes with "sauna.")
Wayne was stationed in Mississippi, flying hurricanes with the famous Hurrican Hunters, when a colleague went to a meeting in Denver and met Brona (stationed near Kansas City, Missouri), and in that conversational small-world thing people so often do, figured out mutual acquaintances; in this case, Wayne.
Both Wayne and Brona had once worked in the same office at the base. Wayne recalls, "I didn't really get to know her. Our biggest interaction was when her sorority was selling umbrellas and I bought one." Also, both were married to someone else at that time.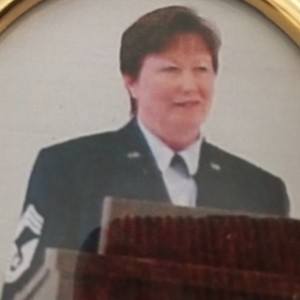 Brona at her retirement ceremony
In between the umbrella purchase and that conference in Denver, they'd both gotten divorced. So when Wayne heard that "oddball" name, he gave Brona a call.
They started a phone friendship that became so intense that Wayne says, "It was cheaper to fly to Kansas City than to pay the phone bills."
(Ah, that brings back memories. Remember when the cost of long-distance calls really mattered. Who even says "long distance calls" anymore? I once worked
in a company that had WATS lines – those were the lines companies had with a fixed monthly cost for all calls — and employees would drive into the office
on weekends to make free long distance calls. And I had an aunt with a miniature hourglass with three minutes worth of sand next to her Princess phone — she never, never let that sand run out.)
The two married in April of 1977. Wayne retired from the Air Force in '84, after ten years of flying hurricanes and commanding the Hurrican Hunter Squadron. Brona stayed in till 2001.
I sometimes hear people say, "I retired, but I wasn't very good at it and I went back to work." Well, Wayne was good at it. He says he was never tempted to seek out another career after the military. In fact, he told me…
"Last year, July 22nd, which is also Brona's birthday, was the day that I had not worked longer than I had worked."
(Seems like that day ought to have a name. Crossover day? Nah. I could use suggestions.)
Although he was never tempted to come out of retirement, and he keeps busy with volunteer work around Silveridge, Wayne admits to a bit of nostalgia for his Air Force days. He was a navigator – back when paper maps and compasses made it a challenging art – and he smiles and says, "Whenever I see a C130 fly over, I do miss it."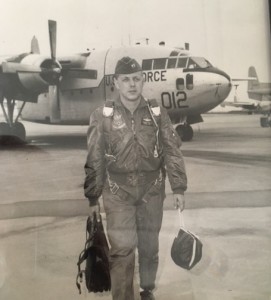 Wayne with a C-119, what he calls a "Flying Boxcar"
Meanwhile Brona wasn't well suited to retirement. She says, "I get cabin fever. I need to get up and get out." That work ethic eventually led them to Silveridge.
In the late nineties, the two bought an RV. One of their trips was to visit Mount Rushmore and the two were standing in line to buy ice cream. That's when they heard that the park needed seasonal employees and Brona signed on, her first of many experiences as a "work camper."
They spent a total of nineteen years touring around in the RV till, as Wayne put it, "We ran out of places to go."
One of the last places they parked the RV was at Silveridge, back in 2002, having liked the place when they visited friends the year before. Then they bought Unit #192, across the street from their current place, and came back for the '02/'03 season. They now split their time between Silveridge and Prescott Valley.
Brona has been slowed down temporarily by shoulder surgery, but she still needs to "get up and get out." In addition to her tennis, and her volunteering at Silveridge, she volunteers at Mt. Vista Medical Center. She goes there from 5-8AM, five days a week, greeting surgery patients, and has been doing so for nine years. When I repeated "Five AM for nine years?" with surprise, she smiled and said, "I automatically wake up at four and I might as well be of use to someone besides Wayne and the cat."
And despite never looking back after his retirement, Wayne has put in a lot of work as a Silveridge volunteer. He has served as Commissioner of softball and Treasurer of the Renters Association and found himself pressed into service as an important figure in the bingo program.
Wayne and Brona are still regular volunteers at bingo and elsewhere around the park. A few years back, Activities Director Sue Arneson asked Brona if she'd help run the Veterans Day ceremonies. Brona said, "If I can still fit in my uniform." She did and still does.
Wayne looks like he'd still fit in his uniform, too. However, we won't know for sure because he lost his uniforms and service memorabilia in Hurricane Katrina. "It was in a storage unit that ended up with nine feet of water."
When the fall events start up, look for Wayne and Brona, still being of service.