Location: Lot 466
Year and Model: 1987 Olympian
Arizona Room: NO
Storage Shed: YES
Deck: NO
AC: YES
Washer/Dryer: YES
Extra Bath: NO
Furnished: YES
Pet Section: NO
Raised Deck: NO
Ramp: NO
Price:Jan, Feb, March, 2015-$1,875.00 a month. Bonus: Take all 3 & get April 1-10 rent-free! Deposit required.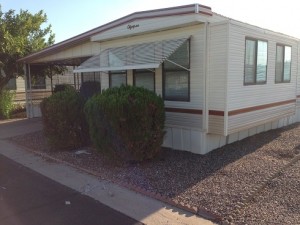 Remarks: This unit is very clean-nicely furnished, Queen bed, Queen hide-a-bed, Over sized screened carport, Patio furn. & grill, Shed, W/D, Bicycles, Smoke free, Phone/Internet available and all Electric very reasonable.
Contact:  L. Chris Zook-Pinkerton 1-308-530-9459 or Email: lesleepink@gmail.com