Come by the Activities Office and look for Sharon Beatty and see if she's smiling. I'm guessing yes, because she may have found what is her ideal job. Sharon is the new Assistant Activities Director, working with Director Sue Arneson.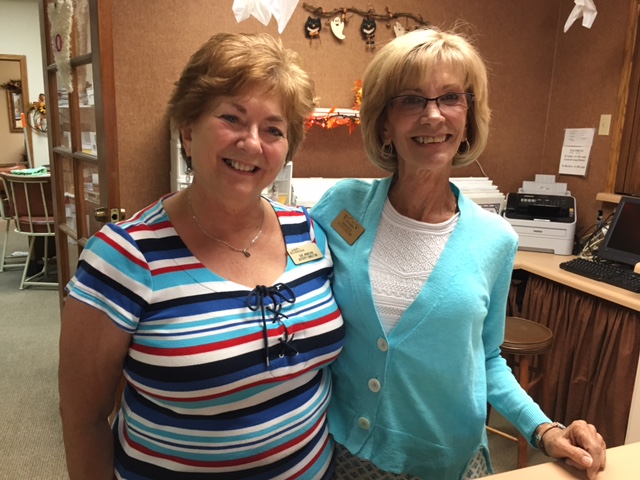 Sue (left) and Sharon
Sharon is something of an expert on jobs. Just look at this list of the ones she's held since growing up in Colorado:
She got a degree in Interior Design from Metro State (that's officially Metropolitan State University in Denver) and that ushered her into her first career. The biggest challenge, she recalls, was getting the people who hired her to make up their minds. Then, along came a recession and most people made up their minds to put off decorating.
That's when Sharon went to work as a flight attendant, which brought her to Arizona to work with the old America West, and later with Southwest. Those jobs were, she remembers, "fun for a while." Then came "that night." Sharon says, "I was in charge of the crew on a late night flight from Phoenix to Reno. The Captain told me to prepare for an emergency landing—they couldn't get the landing gear down. I'll never forget looking down and seeing all the fire trucks and ambulances waiting for us. It worked out and nobody got hurt, but I kept thinking that as a single parent raising two kids, I couldn't stay in a job where I was risking my life."
So Sharon took a job with Terri's Consignment, then got the entrepreneurial itch and opened her own cupcake and cake decorating shop. That business was a success, but after four years, rent increases forced her to choose between relocating or closing, so she chose to shutter the shop and take a new job.
By this time, residing in the far East Valley, she found work in Activities with a resort in Gold Canyon. That job worked out well, in large part because Sharon grew close to her boss. Then, after a year and a half, management decided to fire the boss and Sharon chose to quit. After all, she had a new granddaughter she wanted to help with.
A year later, Sue Arneson enters the picture. Sue knew Sharon's old boss and the two made the connection. Sharon started at Silveridge in early October.
Speaking of her new job, Sharon said, "The only problem I've had is keeping the names straight. And people keep saying, 'You know, there are a lot more people coming.' Oh yes, I know." But it's working out. She seems to have found the right place:
"I never could decide what to do," Sharon says, "but I'm here where everybody is so nice and I enjoy the entertainment and I love the parties."