Sue Isbell
Office Manager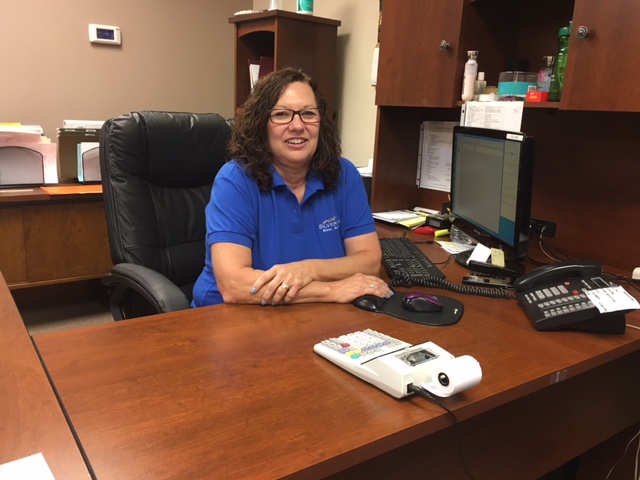 The residents at Silveridge are here to have fun and we're here to help. There are days when I'll be in my office and I hear the music start up, then I'll walk over and see people dancing and I just have to smile, to be a part of it. – Sue Isbell, Office Manager
I can attest that Sue Isbell had to smile just thinking about the residents of Silveridge having fun. I visited her recently to discuss her time at Silveridge and the path that led her to us.
Like so many residents at Silveridge, Sue spent time on the road, including fulltime for two years. That run started when her daughter graduated from high school and Sue and her husband decided it was time to travel. So Rick landed a job as a trucker, driving big rigs, and Sue joined in.
She liked it out there, seeing the country, but then came the call from her daughter: she was pregnant. "That was the day I told my husband," Sue recalls, 'You don't get me anymore – I'm going home to be a grandmother."
Sue and Rick, Then & Now
Home was Mesa, where she'd lived since her own high school days. She was born in Jackson, Michigan to a dad who worked in the auto industry and a mom who worked at the Holiday Inn. She was one of three girls and five boys, the youngest, and the child who got stuck moving across country in the middle of high school because her parents hoped the desert climate would help her mom's arthritis. Sue settled in, going to Mesa High and landing a job busing tables at the Apache Wells retirement community's restaurant.
Among her jobs since those early days was working as a resident manager at a self-storage facility, and then, starting 2013, working as the Assistant Manager at The Resort, our sister park. A year later, in 2014, her energy and skills were rewarded when she was offered the job as Office Manager at Silveridge.
She says of her job, "We work as a real team, always helping each other help the residents. We all get along – it makes such a difference when everyone genuinely likes each other."
In addition to Sue's earlier comments about being part of the residents having fun, she says…
"One of the unexpected joys of my job is getting to know people from all over the country, and from other countries. Last year I saw that one of our residents was from the town of Albion, Michigan. I thought, I wonder if she knows my sister. So I visited with her and asked and she said, 'Yes! We used to hang out together.' So then I had to call my sister and I was able to reconnect two old friends. That's what I love about Silveridge – all the connections we all make with one another."