Sue Arneson
Activities Director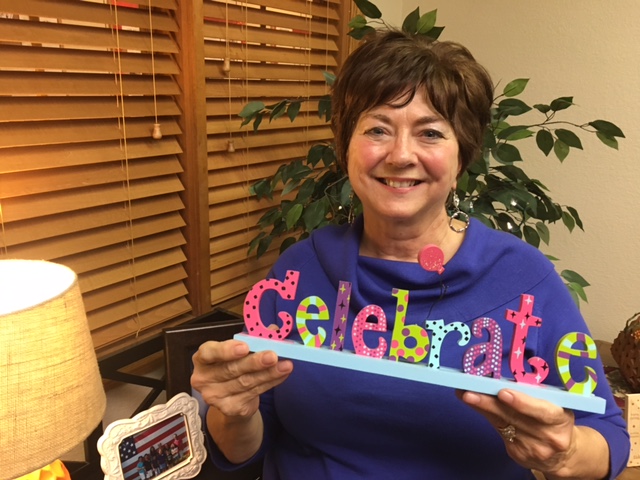 You could guess that Sue Arneson had a successful career in sales. She has that infectious energy that makes you want to join in, one of those people you just can't imagine saying no to. As a girl, she toyed with becoming a nun, and if she had, well maybe everyone at Silveridge would now be Catholic.
"THAT'S HOW YOU BECOME PART OF THE PARK"
I sat down with Sue to talk about how she came to be the Activities Director at Silveridge and we soon were discussing her past career. For 30 years she worked for a national interior design/decorating company, many of those years as Director of Sales. She had a hundred sales consultants working for her, and became a certified instructor, doing training and recruiting throughout the firm. She says, "The thing I learned in sales that keeps coming back to me is Interest/Enthuse/Date. You have to find what people are interested in, then get them enthused and then set the date, by which I mean that you get a commitment to get started."
She then went on to explain how she puts that principle to work at Silveridge, describing what transpires when she meets a new resident, exploring their interests, then getting them enthused — by describing how volunteering is the way to get to "know people and know the park" – then figuring out the day they'll start.
She added, "The volunteers make everything possible. That's how you become part of the park." No wonder she has 300 volunteers, happy to pitch in.
With that, Sue pulled out her list of groups and activities. "There are 50 of them – 50! – so if you have interests, you'll find others to share them with. And that doesn't include the events, all the boogies, dances, shows and concerts – there are 35 of those this season."
COMING TO SILVERIDGE
Sue and her husband, Jeff, made visits from Minnesota to Arizona, and came often to Silveridge. That's because Sue's mom, Marjorie, had become a seasonal resident at the park. It wasn't too long till Sue and Jeff wanted more of Silveridge, and in 2005 bought a place in the park of their own. "Why not? was our thinking. We liked the people and we liked the park."
Then, in 2010, Sue got word that the Activities Director, Donna Ward, had announced that she'd be retiring. Sue had herself been retired a while. and found herself reacting to the news of Donna's departure by thinking, "I could do that." Oh, yes, she could. After a year as Donna's assistant, she took over the Director's job. Of that decision, Sue said, "It was a good fit. I knew the park and the park is family. I knew this was God's calling for me for this time."
How did her husband react to her going back to work? She reports that "Jeff is my number one volunteer."
They spend the season, from September to April, at Silveridge and then return to their beloved home on Round Lake in Minnesota. This year they'll be going back to the new pontoon boat they just bought and Sue asked me to include this:
"Jeff and I would like to invite any of our Silveridge family to come for a visit and have a ride in the new boat."
(Round lake at Sunrise)
FARMER'S DAUGHTER
"I was a farmer's daughter," Sue began. "I was the oldest daughter, out of eight kids, and so I became my mother's right hand, the Second Mom." This was on a family farm near Highmore, South Dakota. (If you're thinking that story sounds familiar, our GM, Rhonda Ciacco, was also raised on a farm in South Dakota.)
Sue went to a one-room schoolhouse, all eight grades in that one room, and at home she cleaned chickens and cooked meals. She smiled as she recalled one detail: "I was the baker. We baked every day." That lasted till the local priest spotted her potential and helped her get a scholarship to go to boarding school, a Catholic high school, four hours away, run by nuns. Then it was off to Northern State College. She says of that time, "I got close to becoming a nun, but met my husband instead." That's Jeff, who was in the Air Force, stationed in Grand Forks. They married, moved to Minnesota, Jeff left the military to take a series of police jobs around the Twin Cities area, they had three kids, and soon Sue found her way into sales.
(Sue and Jeff with their kids and grandkids)
THE SILVERIDGE FAMILY
Last year, Sue undertook the labor-intensive project of creating a book about Silveridge and its residents; she chose the title, The Silveridge Family. That title expresses exactly how she thinks about the park. She says, "My philosophy is find out what people want and give it to them. As we get new residents, I can see the tastes and interests are changing and we're changing with them."
And then there are all those clubs and activities: "We just had a Club Expo and nearly 300 people showed up to have breakfast and to see what clubs they might want to explore." And that's all it takes – if you have an interest, Sue will get you enthused and set a date to get you started.